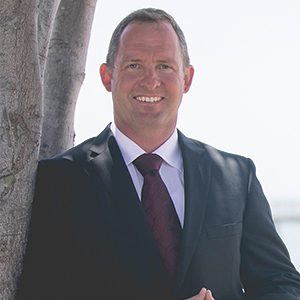 Interacting with people from all different walks of life has been a key aspect in Wayne Hartley's highly successful and prolific real estate career. And with the experience gained from a real estate career that began in 1995, Wayne is exceptionally qualified to shed light on how best to buy and sell property in all market conditions.
As the principal of Redlands Realty, Wayne enjoys the challenge of overcoming difficult situations and negotiations. "I get a real buzz from assisting people and helping them achieve their goals," Wayne says, "The best compliment I've received from a client is, 'You're too nice a bloke to be a real estate agent'". Palpable evidence that Wayne is a highly motivated 'people's person' with outstanding local knowledge.
Wayne's first step into the profession was at a major real estate franchise office in Sydney, where he worked for nine years. While there, he progressed from the young 'gofer', through to property management and onto sales.
For quite some time Wayne had a vision of owning his own real estate business. In 2004, he and his wife moved to the Redlands with their young family to pursue their aspiration, and reside in an area they believed to be the best environment to raise their two sons. Wayne secured a position at Doust Realty for 12 months, before buying into the business. Eventually, he procured full ownership and re-named the organisation Redlands Realty. This bold move was designed to create an extensively recognised brand throughout the Redlands and would ultimately enhance the company's Internet Search Engine Optimisation. Recognising the strength of any business is the people within it.
Wayne has made a conscious effort to employ 'real' people who relate well to clients and customers alike, and is extremely proud to have built such a well-respected and stable group. Signifying a strong community sense, Wayne is actively involved with numerous local aid organisations and regularly offers his services at charity auctions.
A devoted family man, he constantly strives to achieve a good work/life balance. Wayne attributes his success to high-level professionalism and the constructive relationships he attains with his customers. He is persistent, but not pushy and is someone who works very hard for his clients and staff. He acts with ethics and integrity and promotes these important values amongst his dedicated team.
Having played competitive sport for most of his life, including two years with the Sydney Swans under 19's, Wayne has learned the importance of teamwork – something of great benefit, but often missing in many real estate offices.
Wayne has built Redlands Realty on a foundation of competence, honesty and professionalism. He feels extremely privileged to lead a superb real estate team.
---