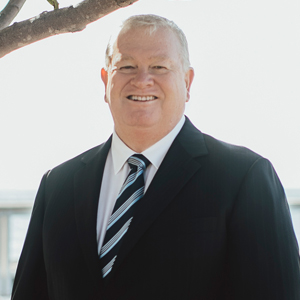 Michael, a Redlands local, has lived in Birkdale for the past 20 years with his wife and family and is an enthusiastic supporter of the 'Redlands lifestyle'.
During his professional career, he has worked across a number of industry sectors including education, transport and logistics, and business broking – where he established a solid reputation for successfully negotiating difficult and complex deals. Michael recently chose to follow his passion for residential sales and is now using his skills as part of the highly successful team at Redlands Realty.
Understanding that his clients require trusted advice on:
• sale price
• timing of a sale
• the presentation of the property for sale
• the marketing of their property
• as well as understanding each of the stages of the sales process
Michael keeps his clients continuously informed while working hard to ensure that they achieve the best results.
Having bought and sold many houses in the Redlands, Michael is aware that selling a property can be much more than a financial transaction and can involve powerful emotions. With more than thirty years business experience, Michael can be relied upon to guide you through these times.
Michael's priority is the satisfaction of his clients and is eager to assist you in obtaining a GREAT RESULT!